Nandina domestica 'Gulf Stream'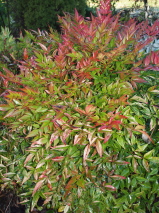 CATALOGUE DESCRIPTION
Bushy, compact shrub for year-round foliage interest. It features a variety of leaf colors on a fairly dense, evergreen plant. New growth is bronze with orange tints. Older leaves range from blue-green to gold and red. Great red- and orange-toned winter color. Hardy plant, tolerant of urban conditions. It makes a fine informal hedge or can be used as a foundation planting. It can also be used in containers or in the mixed border. Sun or semi-shade.

Nandina
Species domestica
Cultivar 'Gulf Stream'
Heavenly bamboo
Berberidaceae
China/Japan
DETAILS
1.5 m
1 m
(expected growth in average NZ conditions in 5 to 10 years)
Evergreen
Grows in most soil types
Tolerates dry soils
Grows in sun or semi-shade / Will tolerate very hard frosts.
Immaculate / Sanctuary / Texture
Shrubs
Medium, height between 1.5 to 3 metres