Miscanthus sinensis 'Morning Light'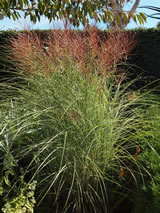 CATALOGUE DESCRIPTION
An ornamental perennial grass forming a thick clump of narrow, arching green leaves neatly edged with white giving an almost light silvery-green effect. Tall spikes of toi-toi like flowers in late summer, cream with a pinkish tone. Found naturally in moist soil in meadow or marshland. However can grow in garden soil in dryish conditions. Good at the back of herbaceous borders, as a screening plant or at the water's edge. Hardy to cold. Cut back deciduous foliage by the end of the winter.

Miscanthus
Species sinensis
Cultivar 'Morning Light'
Eulalia
Gramineae
East Asia
DETAILS
2 m
1 m
(expected growth in average NZ conditions in 5 to 10 years)
Deciduous
Grows in most soil types
Prefers moist soil / Tolerates dry soils
Grows in sun or semi-shade / Will tolerate very hard frosts.
Sanctuary / Structure / Texture / Whimsical
Grasses, sedges and flaxes.
Large, height over 1.5 metres.