Metrosideros umbellata.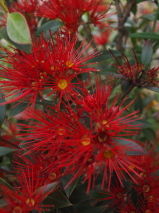 CATALOGUE DESCRIPTION
A small tree which can start out life as an epiphyte. It has dense narrow pointed mid green leaves on erect branches. Masses of small red flowers occur in clusters from November to March. It is found naturally in high rainfall areas, lowland to subalpine, mostly South Island. It grows slowly, prefers good soil moisture, and a cooler climate. Prefers not to be shaded out by other plants. Frost hardy.

Metrosideros
Species umbellata.
Cultivar
Southern Rata
Myrtaceae
New Zealand
DETAILS
6 m
3 m
(expected growth in average NZ conditions in 5 to 10 years)
Evergreen
Prefers good loamy soil
Prefers even soil moisture
Frost hardy / Grows in sun or semi-shade / Prefers a cool climate / Tolerates exposed sites.
Trees
Medium 10 to 18 metre.