Metrosideros collina 'Spring Fire'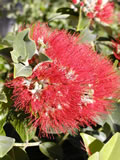 CATALOGUE DESCRIPTION
This tree from the Pacific Islands is similar to NZ's Pohutukawa which is well known around coastal New Zealand. Over time it forms a broad spreading tree. The large rounded leaves are light grey-green with a distinct undulation around the edge. Showy clusters of orange-red flowers appear sporadically throughout the year. It grows best by the coast in areas that only get very little frost. Very hardy to dry conditions once established.

Metrosideros
Species collina
Cultivar 'Spring Fire'
Pacific Rata
Myrtaceae
Pacific Islands
DETAILS
5 m
2 m
(expected growth in average NZ conditions in 5 to 10 years)
Evergreen
Grows in most soil types
Tolerates dry soils
Does not tolerate frost. / Grows in exposed or coastal sites. / Grows in sun or semi-shade
Trees
Medium 10 to 18 metre.
All our current stock has been dispatched out to retailers. If they have none left for you, we are growing another crop to supply as soon as possible.
Where to buy our plants