Metrosideros fulgens 'Gold'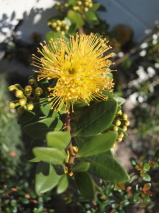 CATALOGUE DESCRIPTION
This liane or shrub when grown from seed will cling to a support to reach higher light levels.Once there it develops its adult foliage and flowers. When propagated as an adult plant it forms a bushy shrub with oval leathery green leaves on stiff branchlets. Masses of golden-yellow flowers appear in summer to winter. Eyecatching! It will tolerate some frost, grows in sun or semi-shade. Will not thrive in dry soils.

Metrosideros
Species fulgens
Cultivar 'Gold'
Rata, Aka
Myrtaceae
New Zealand
DETAILS
3 m
2 m
(expected growth in average NZ conditions in 5 to 10 years)
Evergreen
Grows in most soil types / Prefers good loamy soil
Prefers even soil moisture
Cool roots / sunny top / Grows in sun or shade / Tolerates coastal sites / Will tolerate moderate frosts
Enthusiast / Indigenous / Magnificent / Nourishment / Sanctuary / Texture
Shrubs
Large, over 3 metres.