Metrosideros excelsa. 'Vibrance'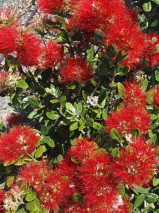 CATALOGUE DESCRIPTION
The iconic pohutukawa is well known around coastal New Zealand. Over time it forms a broad spreading tree with gnarled trunks and branches. The leathery leaves are light grey-green above, with dense white hairs below. Showy clusters of vibrant orange-red flowers cover the tree in early summer. It grows best by the coast in areas that only get light frosts. Very hardy to dry conditions once established. Will form multiple trunks, unless these are removed.

Metrosideros
Species excelsa.
Cultivar 'Vibrance'
Pohutukawa
Myrtaceae
New Zealand
DETAILS
5 m
2 m
(expected growth in average NZ conditions in 5 to 10 years)
Evergreen
Grows in most soil types / Grows in sandy soils / Needs well drained soil
Tolerates dry soils
Grows in exposed or coastal sites. / Prefers a sunny site / Tolerates light frost only
Trees
Large over 18 metres.
We have this currently available in a PB 6.5 & PB 28 containers. Ask for them at your retailer.
Where to buy our plants