Luculia grandifolia.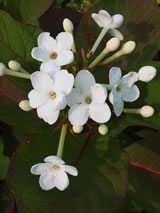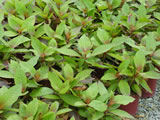 CATALOGUE DESCRIPTION
Beautiful lush shrub with large bold green leaves on strong erect stems. Large clusters of fragrant creamy white flowers at the tip of each stem through the summer. Will tolerate light frosts. Prefers a sheltered site. Best in good soil that does not get too dry. Planted under the eaves, allowing the scent into the house.

Luculia
Species grandifolia.
Cultivar
Luculia
Rubiaceae
East Asia
DETAILS
2 m
2 m
(expected growth in average NZ conditions in 5 to 10 years)
Evergreen
Needs well drained soil / Prefer good loamy soil
Water well in summer / keep dry in winter
Must be sheltered from wind. / Prefers a semi-shaded site / Will tolerate light frost only
Enthusiast / Immaculate / Paradise / Sanctuary / Texture
Shrubs
Medium, height between 1.5 to 3 metres
All our current stock has been dispatched out to retailers. If they have none left for you, we are growing another crop to supply as soon as possible.
Where to buy our plants