Asplenium bulbiferum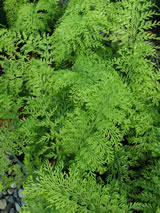 CATALOGUE DESCRIPTION
A terrestrial or epiphytic fern found in moist gullies and rainforests. Finely cut, fresh green leaves on glossy dark arching fronds growing from the base in a fountain habit. Plantlets grow on the upper part of the leaf. Prefers a shady site, with soil that does not get too dry. Wonderful as a ground cover in shady conditions. Hardy to cold.

Asplenium
Species bulbiferum
Cultivar
Hen and Chicken fern
Aspleniaceae
Australasia
DETAILS
1 m
1 m
(expected growth in average NZ conditions in 5 to 10 years)
Evergreen
Grows in most soil types / Needs well drained soil
Prefers even soil moisture
Frost hardy / Grows in part or full shade. / Prefers a semi-shaded site
Indigenous / Sanctuary / Texture / Whimsical
Ferns
Small, under 1 metre high.