Lophomyrtus 'Pixie'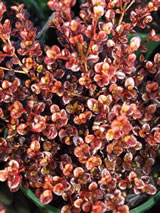 CATALOGUE DESCRIPTION
Small ball-like shrub with with brownish to cinnamon coloured bark. The small ovate leaves are a speckled fawn-brown. It has small cream flowers in summer followed by reddish-purple berries. It may need some protection from frost when young, needs well drained soil that does not get too dry. Sun or semi shade. This was selected by Cam Simpson from C. H. Simpson Nurseries, Nelson.

Lophomyrtus
Species
Cultivar 'Pixie'
Myrtle, Ramarama
L. bullata x L. obcordata
Myrtaceae
New Zealand
DETAILS
50 cm
50 cm
(expected growth in average NZ conditions in 5 to 10 years)
Evergreen
Grows in most soil types / Prefers good loamy soil
Avoid dry soils / Soil must be well drained
Grows in sun or semi-shade / Will tolerate moderate frosts
Immaculate / Indigenous / Nourishment / Texture / Whimsical
Shrubs
Dwarf, height 0.3 and 1 metre.
All our current stock has been dispatched out to retailers. If they have none left for you, we are growing another crop to supply as soon as possible.
Where to buy our plants