Arthropodium cirrhatum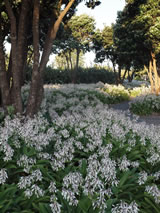 CATALOGUE DESCRIPTION
NZ native Renga renga lily. Attractive clumps of grey-green leaves. Useful for growing under trees or dry, shady sites. Tall stems of attractive white flowers through the summer. Avoid heavy frost. Needs well drained soil.

Arthropodium
Species cirrhatum
Cultivar
Rengarenga lily
Liliaceae
New Zealand
DETAILS
40 cm
60 cm
(expected growth in average NZ conditions in 5 to 10 years)
Evergreen
Grows in most soil types / Grows in sandy soils
Soil must be well drained
Avoid frosty sites / Prefers a semi-shaded site / Tolerates coastal sites
Immaculate / Indigenous / Sanctuary / Texture / Whimsical
Perennials
Small, height up to 0.6 metres.