Pyrethropsis hosmariensis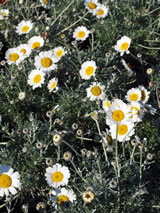 CATALOGUE DESCRIPTION
Low mounding sub-shrub with deeply cut, silvery grey-green foliage. A profusion of long-stemmed, single white daisy flowers, with yellow centres, autumn into early summer. Must have perfect drainage and a sunny site, frost hardy. Lovely for an edging , around roses or bulbs.

Pyrethropsis
Species hosmariensis
Cultivar
Leucanthemum
Compositae
Morocco
DETAILS
30 cm
50 cm
(expected growth in average NZ conditions in 5 to 10 years)
Evergreen
Grows in most soil types / Needs well drained soil
Avoid wet soil.
Must have full sun. / Tolerates exposed sites. / Will tolerate moderate frosts
Immaculate / Sanctuary / Texture / Whimsical
Shrubs
Dwarf, height 0.3 and 1 metre.