Leptospermum scoparium 'Martinii'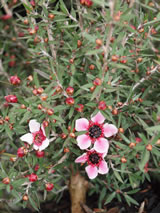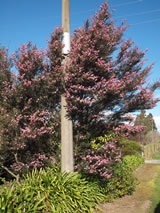 CATALOGUE DESCRIPTION
A hardy colourful small bushy tree with aromatic foliage on erect branches with brown flaky bark. The leaves are green. It has exquisite large single rich deep pink to red flowers in great masses in late winter and spring. Wonderful food for the bees. This is a cultivar of our most common native tree, it grows naturally in many different sites and is very hardy. Great for growing in difficult ground.

Leptospermum
Species scoparium
Cultivar 'Martinii'
Manuka
Myrtaceae
New Zealand
DETAILS
2 m
1 m
(expected growth in average NZ conditions in 5 to 10 years)
Evergreen
Grows in most soil types
Tolerates dry soils / Tolerates wet soils
Grows in exposed or coastal sites. / Grows in sun or semi-shade / Will tolerate very hard frosts.
Indigenous / Magnificent / Nourishment / Sanctuary / Whimsical
Trees
Small 4.5 to 9 metres.