Leptocarpus similis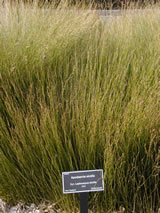 CATALOGUE DESCRIPTION
NZ restio with fine, bluish-green rush-like foliage that has brown bracts at the joints. Found throughout NZ in coastal marshland and estuaries. Tolerates wet or dry conditions. Sun to semi-shade. Hardy. Evergreen. Foliage can be used for flower arranging. Plant in full sun or light shade. Tolerant of a wide range of sites from coastal wet land to dry areas.

Leptocarpus
Species similis
Cultivar
Jointed Club Rush
Restionaceae
New Zealand
DETAILS
1 m
1 m
(expected growth in average NZ conditions in 5 to 10 years)
Evergreen
Grows in most soil types
Prefers moist soil / Tolerates wet soils
Grows in exposed or coastal sites. / Grows in sun or semi-shade / Will tolerate very hard frosts.
Indigenous / Texture
Bamboos and restios
Medium, height between 0.6 and 1.5 metres.