Knightia excelsa.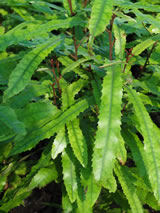 CATALOGUE DESCRIPTION
New Zealand honeysuckle tree. Tall narrow tree with deep green leaves up to 15 cm long, with a distinctive reddish-brown tomentum on the undersides. Stunning reddish-brown flowers along the branches in summer. Highly attractive to native birds for their nectar. Needs protection from cold conditions when young, but hardy once established, needs well drained soil and sun or semi-shade.

Knightia
Species excelsa.
Cultivar
Rewa rewa
Proteaceae
New Zealand
DETAILS
10 m
2 m
(expected growth in average NZ conditions in 5 to 10 years)
Evergreen
Avoid fertilisers with phosphate / Grows in most soil types / Needs well drained soil
Prefers even moisture / Tolerates dry soils
Grows in sun or semi-shade / Tolerates coastal sites / Will tolerate moderate frosts
Indigenous / Magnificent / Nourishment / Sanctuary / Texture
Trees
Large over 18 metres.