Iochroma tuberosa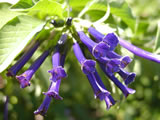 CATALOGUE DESCRIPTION
A spectacular bushy shrub with deep green large soft, oval leaves.Through the summer and autumn it has showy clusters of bright purple tubular flowers with widely flared mouths. Good at the bask of a garden border or against a sheltered house wall. Will be semi-deciduous in light frost areas. Best with good moist soil in a warm sunny site. Though will tolerate dry.

Iochroma
Species tuberosa
Cultivar
Iochroma
Solanaceae
South America
DETAILS
2 m
2 m
(expected growth in average NZ conditions in 5 to 10 years)
Semi-evergreen
Grows in most soil types / Needs well drained soil / Prefers good loamy soil
Prefers even soil moisture / Tolerates dry soils
Grows in sun or semi-shade / Will tolerate light frost only
Enthusiast / Nourishment / Paradise / Sanctuary / Whimsical
Shrubs
Medium, height between 1.5 to 3 metres
All our current stock has been dispatched out to retailers. If they have none left for you, we are growing another crop to supply as soon as possible.
Where to buy our plants