Indigofera decora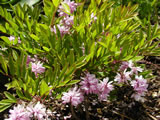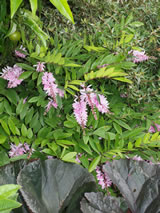 CATALOGUE DESCRIPTION
Small graceful shrub, with multi-stems emerging from the clump once established. Soft green pinnate foliage emerges a bronzy-pink in spring. Lovely long racemes of pink wisteria-like flowers from spring until autumn. These hang delicately down like the skirts of a ballerina. Prefers a warm sheltered site with good soil for best results.

Indigofera
Species decora
Cultivar
Leguminosae
China/Japan
DETAILS
50 cm
50 cm
(expected growth in average NZ conditions in 5 to 10 years)
Deciduous
Grows in most soil types / Prefers good loamy soil
Prefers even soil moisture / Soil must be well drained
Grows in sun or semi-shade / Must be sheltered from wind. / Will tolerate moderate frosts
Enthusiast / Sanctuary / Texture / Whimsical
Shrubs
Dwarf, height 0.3 and 1 metre.