Hypericum calycinium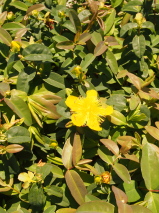 CATALOGUE DESCRIPTION
Small shrub with creeping branching stolons and erect stems. Large rounded green leaves. Large bright yellow flowers through the summer. Incredibly tough ground cover. Will thrive under trees or in dry hostile places, though flowers best given some sunshine. Can tend to be invasive given good growing conditions, but great for filling a small contained garden. Hardy.

Hypericum
Species calycinium
Cultivar
Hypericum
Guttiferae
Turkey
DETAILS
20 cm
60 cm
(expected growth in average NZ conditions in 5 to 10 years)
Evergreen
Grows in most soil types / Prefers good loamy soil
Soil must be well drained / Tolerates dry soils
Grows in part or full shade. / Grows in sun or semi-shade / Will tolerate moderate frosts
Immaculate / Magnificent / Nourishment / Sanctuary
Shrubs
Prostrate or creeping.
All our current stock has been dispatched out to retailers. If they have none left for you, we are growing another crop to supply as soon as possible.
Where to buy our plants