Hebe 'Wiri Mist'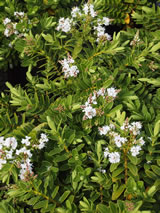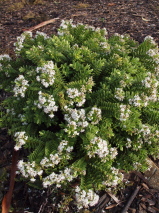 CATALOGUE DESCRIPTION
Compact, spreading shrub with stout often decumbant branches. Fresh green spear shaped leaves are almost overlapping, and give this dense shrub a very attractive appearance. The white flowers with prominent purple stamens, appear in spring and summer. It will grow in sun or semi-shade, best in well drained soil that does not get too dry. Hardy to cold. Jack Hobbs raised this Hebe cultivar at the Auckland Regional Botanic Gardens.

Hebe
Species
Cultivar 'Wiri Mist'
Hebe
H. albicans x H. diosimifolia
Scrophulariaceae
New Zealand
DETAILS
60 cm
100 cm
(expected growth in average NZ conditions in 5 to 10 years)
Evergreen
Grows in most soil types / Needs well drained soil
Tolerates dry soils
Grows in exposed or coastal sites. / Grows in sun or semi-shade / Will tolerate very hard frosts.
Immaculate / Indigenous / Nourishment / Texture
Shrubs
Dwarf, height 0.3 and 1 metre.
All our current stock has been dispatched out to retailers. If they have none left for you, we are growing another crop to supply as soon as possible.
Where to buy our plants