Hebe traversii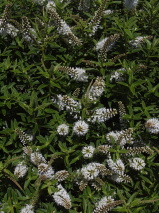 CATALOGUE DESCRIPTION
Erect bushy shrub with green branchlets. Oblong narrow dull mid green leaves, dull green underneath. The white flowers with red stamans, are long and loose making a great show in spring over a long period. It will grow in sun or semi-shade, best in well drained soil, will grow in dry sites. Hardy to cold. A very tidy plant that clips well, and stays looking great for many years. Occurs naturally in eastern South Island in shrub, forest margins and river valleys, from near coastal to subalpine.

Hebe
Species traversii
Cultivar
Streamside Hebe
Scrophulariaceae
New Zealand
DETAILS
1 m
1 m
(expected growth in average NZ conditions in 5 to 10 years)
Evergreen
Grows in most soil types / Needs well drained soil
Tolerates dry soils
Grows in sun or semi-shade / Tolerates exposed sites. / Will tolerate very hard frosts.
Indigenous / Nourishment / Texture
Shrubs
Medium, height between 1.5 to 3 metres
All our current stock has been dispatched out to retailers. If they have none left for you, we are growing another crop to supply as soon as possible.
Where to buy our plants