Hebe topiaria.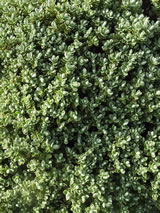 CATALOGUE DESCRIPTION
Low growing rounded shrub with a very neat appearance. Thick scale-like grey-green leaves smoother the branches and give this dense shrub a very attractive appearance. The white flowers emerge from pink buds, they appear on branch tips in spring over a long period. It grows best in sun, in a dry site. Hardy to cold. A very tidy plant that clips well, and stays looking great for many years. Grows naturally in northern South Island, in shrubland and tussock grassland.

Hebe
Species topiaria.
Cultivar
Hebe
Scrophulariaceae
New Zealand
DETAILS
60 cm
60 cm
(expected growth in average NZ conditions in 5 to 10 years)
Evergreen
Grows in most soil types / Needs well drained soil
Tolerates dry soils
Prefers a sunny site / Tolerates exposed sites. / Will tolerate very hard frosts.
Immaculate / Indigenous / Nourishment / Texture
Shrubs
Dwarf, height 0.3 and 1 metre.