Hebe macrantha. var. brachyphylla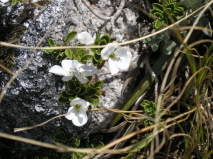 CATALOGUE DESCRIPTION
Stiff erect shrub with stout branches. Thick pale green toothed leaves, are densely clustered on the stems. The flowers are the largest flowers on any Hebe. They are pure white and resemble many beautiful white cups. Flowers in sumer. It occurs naturally in Northern South Island, in penalpine grassland or low shrubland. It is best grown in a sunny site, with good moisture. Hardy to cold.

Hebe
Species macrantha.
Cultivar var. brachyphylla
Hebe
Scrophulariaceae
New Zealand
DETAILS
60 cm
60 cm
(expected growth in average NZ conditions in 5 to 10 years)
Evergreen
Grows in most soil types / Prefers good loamy soil
Prefers moist soil
Grows in sun or semi-shade / Prefers a sunny site / Tolerates exposed sites. / Will tolerate very hard frosts.
Enthusiast / Indigenous / Nourishment / Texture / Whimsical
Shrubs
Dwarf, height 0.3 and 1 metre.
All our current stock has been dispatched out to retailers. If they have none left for you, we are growing another crop to supply as soon as possible.
Where to buy our plants