Hebe elliptica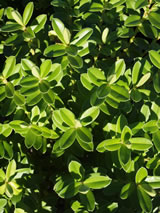 CATALOGUE DESCRIPTION
An erect bushy shrub with long branches. Long oblong light green leaves smoother the branches and give this dense shrub a very attractive appearance. The large white with a little blue flowers are dense and smother the bush and appear in summer and autumn. It will grow in sun or semi-shade, best in well drained soil, will grow in dry sites. Grows in exposed and coastal sites, will always look best in these conditions. Prone to becoming untidy in good garden conditions.

Hebe
Species elliptica
Cultivar
Kokomuka
Scrophulariaceae
New Zealand
DETAILS
1.5 m
1 m
(expected growth in average NZ conditions in 5 to 10 years)
Evergreen
Grows in most soil types / Grows in sandy soils
Soil must be well drained / Tolerates dry soils
Grows in exposed or coastal sites. / Grows in sun or semi-shade / Will tolerate light frost only
Indigenous / Nourishment
Shrubs
Medium, height between 1.5 to 3 metres
All our current stock has been dispatched out to retailers. If they have none left for you, we are growing another crop to supply as soon as possible.
Where to buy our plants