Griselinia lucida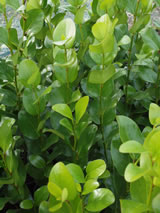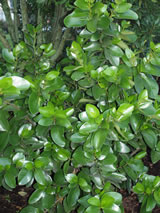 CATALOGUE DESCRIPTION
Distinctive native plant often seen clinging to our rocky coastline. The glossy green leathery leaves grow huge as the plant matures. Small green flowers in spring are followed by green to black fruits loved by birds. Prefers to be sheltered from frost, but hardy to dry exposed conditions. Will grow into a large bush in a garden situation. Occurs naturally as an epiphyte in lowland forests from North Cape to Dusky Sounds, east of the main divide it is replaced by G. littoralis.

Griselinia
Species lucida
Cultivar
Puka
Griseliniaceae
New Zealand
DETAILS
4 m
2 m
(expected growth in average NZ conditions in 5 to 10 years)
Evergreen
Grows in most soil types / Needs well drained soil
Tolerates dry soils
Grows in exposed or coastal sites. / Grows in sun or semi-shade / Will tolerate moderate frosts
Indigenous / Nourishment / Paradise / Texture
Trees
Small 4.5 to 9 metres.
We have this currently available in a PB 18 & POT 3.5 containers. Ask for them at your retailer.
Where to buy our plants