Grevillea 'Gold Rush'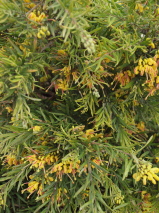 CATALOGUE DESCRIPTION
Bushy rounded shrub with mid-green fine foliage. A mass of bright clear yellow flowers with a red streak, in winter and spring, providing great nectar for the birds. Will grow in dry conditions once established, prefers a sunny site. Hardy, avoid very heavy frost.

Grevillea
Species
Cultivar 'Gold Rush'
Spider flower
Proteaceae
Australia
DETAILS
1 m
1 m
(expected growth in average NZ conditions in 5 to 10 years)
Ev.
Shrubs
Small, height between 1 and 1.5 metres.
All our current stock has been dispatched out to retailers. If they have none left for you, we are growing another crop to supply as soon as possible.
Where to buy our plants