Gardenia augusta 'Radicans'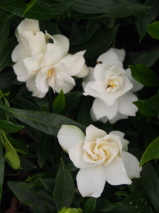 CATALOGUE DESCRIPTION
Small shrub with bright green glossy leaves and a low mounding habit. In the warms months it is covered with small richly fragrant ivory cream flowers. It grows best in rich well composted acidic soil. Keep well fed and watered, protect from frost. Trim to maintain shape.

Gardenia
Species augusta
Cultivar 'Radicans'
Gardenia
Rubiaceae
East Asia
DETAILS
50 cm
50 cm
(expected growth in average NZ conditions in 5 to 10 years)
Evergreen
Prefers good loamy soil
Prefers even soil moisture
Avoid frosty sites / Must be sheltered from wind.
Flowering shrub
Shrubs
Dwarf, height 0.3 and 1 metre.