Fuchsia triphylla 'Gartenmeister Bonstedt'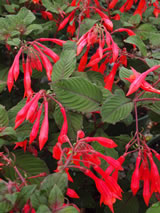 CATALOGUE DESCRIPTION
Small bushy shrub with large dark bronze leaves tinged red above. Tubular blood red flowers hang on the bush in clusters over a long season. An old garden favourite. Prefers a sheltered site, semi-shade best. Soil with even moisture will give the best results. Tolerates only very light frost.

Fuchsia
Species triphylla
Cultivar 'Gartenmeister Bonstedt'
Fuchsia
Onagraceae
South America
DETAILS
70 cm
50 cm
(expected growth in average NZ conditions in 5 to 10 years)
Evergreen
Grows in most soil types / Needs well drained soil
Prefers even soil moisture
Grows in sun or semi-shade / Must be sheltered from wind. / Will not tolerate any frost.
Nourishment / Paradise / Sanctuary / Texture
Shrubs
Dwarf, height 0.3 and 1 metre.
All our current stock has been dispatched out to retailers. If they have none left for you, we are growing another crop to supply as soon as possible.
Where to buy our plants