Ficus pumila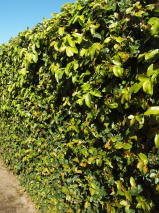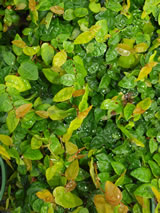 CATALOGUE DESCRIPTION
Small creeping vine that has self-rooting stems that will cling to walls and trunks of trees in its juvenile stage. As a juvenile it has soft heart shaped dark green leaves. As it matures the plant develops thick stocky branches in its adult stage, with longer leathery mid-green leaves. Very useful for densely covering walls, fences or buildings. Hardy, though prefers semi-shaded sites.

Ficus
Species pumila
Cultivar
Creeping fig
Moraceae
East Asia
DETAILS
30 cm
100 cm
(expected growth in average NZ conditions in 5 to 10 years)
Evergreen
Grows in most soil types / Needs well drained soil
Tolerates dry soils
Prefers a semi-shaded site / Will tolerate moderate frosts
Immaculate / Magnificent / Sanctuary / Texture / Whimsical
Climbers
Self-clinging, aerial roots or adhesive.
All our current stock has been dispatched out to retailers. If they have none left for you, we are growing another crop to supply as soon as possible.
Where to buy our plants