Euphorbia glauca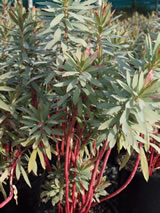 CATALOGUE DESCRIPTION
A NZ native perennial with attractive vivid blue-grey foliage on tall red stems. It forms a clump with a wide creeping habit in good conditions. Clusters of small purple flowers on tall stems in the spring. Grows really well in sandy and coastal sites, if allowed adequate moisture. It does not like to be crowded out by other plants. It is a coastal plant of great ecological importance, many of its natural habitat hve been lost due to coastal development and weed competition. Frost hardy. Occurs naturally all over New Zealand..

Euphorbia
Species glauca
Cultivar
Shore spurge, Waiu-atua
Euphorbiaceae
New Zealand
DETAILS
50 cm
50 cm
(expected growth in average NZ conditions in 5 to 10 years)
Evergreen
Avoid clay soils. / Grows in sandy soils / Prefers good loamy soil
Prefers even soil moisture
Grows in exposed or coastal sites. / Grows in sun or semi-shade / Will tolerate very hard frosts.
Immaculate / Indigenous / Texture / Whimsical
Perennials
Small, height up to 0.6 metres.
All our current stock has been dispatched out to retailers. If they have none left for you, we are growing another crop to supply as soon as possible.
Where to buy our plants