Erica erigena 'Gold Lady'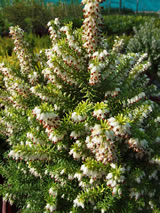 CATALOGUE DESCRIPTION
Compact shrub with a rounded conical shape. Pretty golden yellow leaves all year around. In winter and spring it has white bell-like flowers with red anthers. This plant is hardy to cold and frost but prefers semi shade and free draining, lime free soil. Avoid very dry sites. Great winter colour in the garden.

Erica
Species erigena
Cultivar 'Gold Lady'
Irish Heath
Ericaceae
Europe
DETAILS
40 cm
50 cm
(expected growth in average NZ conditions in 5 to 10 years)
Evergreen
Needs well drained soil / Prefers acidic / lime-free soil. / Prefers good loamy soil
Tolerates dry soils
Prefers a semi-shaded site / Will tolerate moderate frosts
Nourishment / Sanctuary / Texture / Whimsical
Shrubs
Dwarf, height 0.3 and 1 metre.