Erica 'Aurora'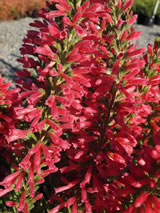 CATALOGUE DESCRIPTION
Attractive erect shrub with tall stems clothed in fine green leaves. In late winter and spring the bright orange red tubular flowers cover the stems. Great for floral work. A sunny sheltered site best. Trim stems after flowering to maintain the best shape.

Erica
Species
Cultivar 'Aurora'
Hybrid Cape Heath
Ericaceae
South Africa
DETAILS
80 cm
50 cm
(expected growth in average NZ conditions in 5 to 10 years)
Evergreen
Needs well drained soil / Prefers acidic / lime-free soil. / Prefers good loamy soil
Prefers even soil moisture / Tolerates dry soils
Prefers a sunny site / Will tolerate light frost only
Enthusiast / Nourishment
Shrubs
Dwarf, height 0.3 and 1 metre.
All our current stock has been dispatched out to retailers. If they have none left for you, we are growing another crop to supply as soon as possible.
Where to buy our plants