Elingamita johnsonii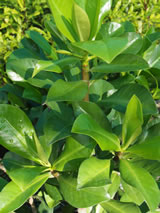 CATALOGUE DESCRIPTION
An unique and rare native tree from the Three Kings Island. Named after the wrecked ship Elingamite. Forms a small tree with glossy deep green leaves, tough and leathery. It has light cream flowers with a tinge of pink through the summer, followed by red berries. Requires protection from frost. Plant in good soil that does not dry out.

Elingamita
Species johnsonii
Cultivar
Elingamita
Myrsinaceae
New Zealand
DETAILS
4 m
2 m
(expected growth in average NZ conditions in 5 to 10 years)
Evergreen
Prefers good loamy soil
Prefers even soil moisture
Grows in sun or semi-shade / Tolerates coastal sites / Will tolerate light frost only
Enthusiast / Indigenous / Magnificent / Nourishment / Sanctuary / Texture
Trees
Small 4.5 to 9 metres.