Elegia capensis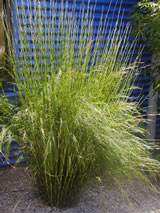 CATALOGUE DESCRIPTION
This restio is a tall, dark green elegant plant with large, decorative, papery sheaths along the stems. Long, needle-like branches, gives its horsetail-like appearance. It is an excellent feature plant. Looks fabulous in a windy open site. Best with good well drained soil that does not get too dry. Hardy.

Elegia
Species capensis
Cultivar
Horsetail restio
Restionaceae
Fynbos region of South Africa
DETAILS
2 m
1 m
(expected growth in average NZ conditions in 5 to 10 years)
Evergreen
Prefers good loamy soil
Prefers even moisture / Tolerates dry soils
Grows in sun or semi-shade / Will tolerate very hard frosts.
Enthusiast / Magnificent / Sanctuary / Texture / Whimsical
Bamboos and restios
Large, height over 1.5 metres.
All our current stock has been dispatched out to retailers. If they have none left for you, we are growing another crop to supply as soon as possible.
Where to buy our plants