Echium pininana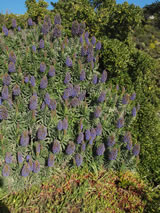 CATALOGUE DESCRIPTION
Big, bold and beautiful shrubby perennial. It likes well drained soils and lots of sun and is quite happy where soils are dry and poor. By nature a coastal plant, the sandy, windy conditions of beach gardens are very much to its liking. Itís an excellent foliage plant with felty grey-green leaves, as well as having gorgeous big purple-blue flower heads in spring. Great on banks surrounded by groundcovering, sun loving daisy flowers such as arctotis, gazanias and osteospermums.

Echium
Species pininana
Cultivar
Pride of Madeira
Boraginaceae
Maderia
DETAILS
1 m
1 m
(expected growth in average NZ conditions in 5 to 10 years)
Evergreen
Grows in most soil types / Needs well drained soil
Tolerates dry soils
Grows in exposed or coastal sites. / Prefers a sunny site / Will tolerate moderate frosts
Nourishment / Structure / Texture / Whimsical
Perennials
Large, over 1.2 metres.
All our current stock has been dispatched out to retailers. If they have none left for you, we are growing another crop to supply as soon as possible.
Where to buy our plants