xDidrangea versicolor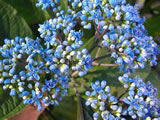 CATALOGUE DESCRIPTION
Bushy erect shrub with large rich green leaves on stout tall stems. The leaves tend to turn purple-green in the colder months. Large showy heads of electric blue waxy star-like flowers through summer and autumn. While hardy to many conditions it does grow best in good soil, avoiding really dry sites, semi-shaded best.

xDidrangea
Species versicolor
Cultivar
Evergreen hydrangea
Dichroa febrifuga x Hydrangea macrophylla
Hydrangeaceae
South East Asia
DETAILS
1.5 m
1 m
(expected growth in average NZ conditions in 5 to 10 years)
Semi-evergreen
Grows in most soil types / Needs well drained soil / Prefers good loamy soil
Prefers even soil moisture / Tolerates dry soils
Prefers a semi-shaded site / Will tolerate moderate frosts
Paradise / Texture / Whimsical
Shrubs
Medium, height between 1.5 to 3 metres
All our current stock has been dispatched out to retailers. If they have none left for you, we are growing another crop to supply as soon as possible.
Where to buy our plants