Dianella nigra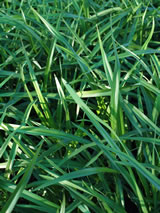 CATALOGUE DESCRIPTION
An evergreen perennial herb, forming very tight, compact, dense clumps of dull olive-green slightly drooping leaves. Spikes of nodding small white flowers turn to shiny blue berries. Prefers a site that does not dry out, sun or semi-shade. Tolerates some frost.

Dianella
Species nigra
Cultivar
Blueberry, Turutu
Xanthorrhoeaceae
New Zealand
DETAILS
40 cm
50 cm
(expected growth in average NZ conditions in 5 to 10 years)
Evergreen
Grows in most soil types / Needs well drained soil
Dry tolerant / Prefers even soil moisture
Prefers a semi-shaded site / Tolerates coastal sites / Will tolerate moderate frosts
Indigenous / Sanctuary / Texture
Perennials
Small, height up to 0.6 metres.
All our current stock has been dispatched out to retailers. If they have none left for you, we are growing another crop to supply as soon as possible.
Where to buy our plants