Daphne bholua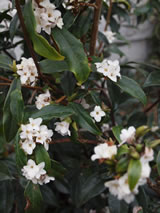 CATALOGUE DESCRIPTION
'Paper daphne'. Tall narrow shrub with leathery dull deep green leaves. Terminal clusters of very sweetly fragrant white-pink flowers through the winter. Hardy to cold. Prefers semi-shade and well drained soil. Great to plant near doorways and windows.

Daphne
Species bholua
Cultivar
Himalayan Daphne
Thymelaeaceae
East Himalaya
DETAILS
2 m
1 m
(expected growth in average NZ conditions in 5 to 10 years)
Evergreen
Grows in most soil types
Must be well drained / Prefers even moisture
Prefers a semi-shaded site / Will tolerate very hard frosts.
Nourishment / Sanctuary / Texture / Whimsical
Shrubs
Medium, height between 1.5 to 3 metres
All our current stock has been dispatched out to retailers. If they have none left for you, we are growing another crop to supply as soon as possible.
Where to buy our plants