Cyperus papyrus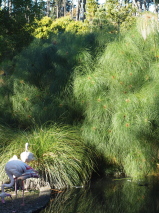 CATALOGUE DESCRIPTION
Perennial, grasslike rhizomatous plant with a graceful habit and bright green long leaves. The exotic unusual heads of umbrella-like flowers look great through the summer. Excellent for around wet areas, will cope with up to 30 cm of water above the root zone. Prefers good soil and a sunny site. beside pools or streams. Strips of the pith-like tissue from the flowering stems will unite under pressure to give papyrus.

Cyperus
Species papyrus
Cultivar
Papyrus, Egyptian paper reed
Cyperaceae
Africa
DETAILS
3 m
1 m
(expected growth in average NZ conditions in 5 to 10 years)
Semi-evergreen
Prefers good loamy soil
Prefers moist soil
Prefers a semi-shaded site / Will tolerate light frost only
Enthusiast / Magnificent / Sanctuary / Texture / Whimsical
Grasses, sedges and flaxes.
Large, height over 1.5 metres.
All our current stock has been dispatched out to retailers. If they have none left for you, we are growing another crop to supply as soon as possible.
Where to buy our plants