Hydrangea macrophylla 'Pia'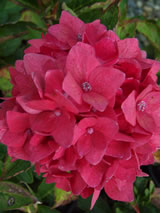 CATALOGUE DESCRIPTION
Hortensia group. Dense slow-growing dwarf multi-stemmed shrub with lush light-green leaves, bold and saucer-shaped. In summer it is covered with large clusters of crimson flowers. Very pretty. The flowers form on two year old wood. Thin out crowded stems in late winter, shorten where necessary. Hardy for cold sites. Best in semi-shade, with good soil moisture.

Hydrangea
Species macrophylla
Cultivar 'Pia'
Mophead hydrangea
Hydrangeaceae
Japan
DETAILS
50 cm
50 cm
(expected growth in average NZ conditions in 5 to 10 years)
Deciduous
Grows in most soil types
Prefers even soil moisture
Prefers a semi-shaded site / Will tolerate very hard frosts.
Immaculate / Paradise / Sanctuary / Whimsical
Shrubs
Dwarf, height 0.3 and 1 metre.