Crinodendron hookerianum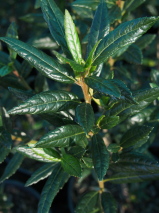 CATALOGUE DESCRIPTION
Beautiful evergreen small tree with very deep green glossy foliage and an upright bushy habit. Masses of waxy dark red bell-like flowers through spring and summer. Flowers are heavy with pollen. Prefers good acidic soil, and a cool, moist climate. Best planted in a sheltered shady site if the soil or climate are not ideal. Hardy to frost.

Crinodendron
Species hookerianum
Cultivar
Chile lantern tree
Elaeocarpaceae
Chile
DETAILS
3 m
2 m
(expected growth in average NZ conditions in 5 to 10 years)
Evergreen
Prefers acidic / lime-free soil. / Prefers good loamy soil
Avoid dry soils / Prefers even soil moisture
Grows in sun or semi-shade / Prefers a cool climate / Tolerates coastal sites / Will tolerate very hard frosts.
Enthusiast / Immaculate / Nourishment / Sanctuary / Texture
Shrubs
Large, over 3 metres.
All our current stock has been dispatched out to retailers. If they have none left for you, we are growing another crop to supply as soon as possible.
Where to buy our plants