Portulacaria afra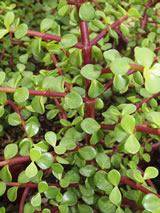 CATALOGUE DESCRIPTION
A much-branched shrub with smooth fleshy glossy green leaves on soft brown stems. Stems become interwoven as the plant ages. In the wild they form dense thickets and provide an important food source for elephants and other herbivores. It is used for hedging in dry mediterranean climates. Will not tolerate any frost, and must have well drained soil and a warm climate. Great as a house plant.

Portulacaria
Species afra
Cultivar
Jade plant
Portulacaceae
South Africa
DETAILS
50 cm
50 cm
(expected growth in average NZ conditions in 5 to 10 years)
Evergreen
Grows in most soil types / Grows in sandy soils / Needs well drained soil
Prefers dry soil
Grows in sun or semi-shade / Will not tolerate any frost.
Immaculate / Sanctuary / Structure / Texture
Succulents
Medium, height between 0.23 and 1 metre.