Corynocarpus laevigatus 'Alba Variegatus'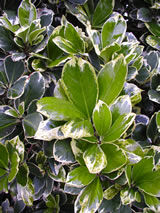 CATALOGUE DESCRIPTION
Tall bushy tree. Attractive large shining dark green leaves are edged with a cream variegation. Very hardy to many soils, if well drained, dry tolerant, however avoid heavy frost. A very attractive plant to provide colour and interest.

Corynocarpus
Species laevigatus
Cultivar 'Alba Variegatus'
Karaka
Corynocarpaceae
New Zealand
DETAILS
4 m
2 m
(expected growth in average NZ conditions in 5 to 10 years)
Evergreen
Grows in most soil types / Needs well drained soil
Tolerates dry soils
Grows in exposed or coastal sites. / Grows in sun or semi-shade / Tolerates light frost only
Enthusiast / Indigenous / Sanctuary / Texture
Trees
Medium 10 to 18 metre.
All our current stock has been dispatched out to retailers. If they have none left for you, we are growing another crop to supply as soon as possible.
Where to buy our plants