Coprosma acerosa.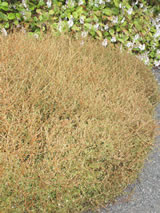 CATALOGUE DESCRIPTION
Picturesque ground cover which forms a cushiony mound of intertwining mustard-brown branchlets Long narrow leaves are deep green. Tiny flowers will form iridescent blue berries if fertilised. Grows well in poor, dry, sandy soils. Great for coastal and exposed sites. Very hardy.

Coprosma
Species acerosa.
Cultivar
Sand dune coprosma
Rubiaceae
New Zealand
DETAILS
30 cm
100 cm
(expected growth in average NZ conditions in 5 to 10 years)
Evergreen
Grows in most soil types / Grows in sandy soils / Needs well drained soil
Tolerates dry soils
Frost hardy / Grows in exposed or coastal sites. / Grows in sun or semi-shade
Indigenous / Nourishment / Texture
Shrubs
Prostrate or creeping.
All our current stock has been dispatched out to retailers. If they have none left for you, we are growing another crop to supply as soon as possible.
Where to buy our plants