Convolvulus cneorum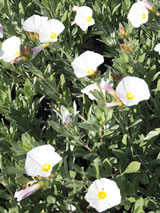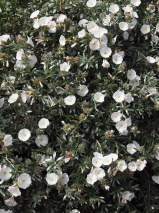 CATALOGUE DESCRIPTION
Attractive low perennial, forms a compact rounded bush with glossy silvery-grey foliage. Great masses of showy white, open trumpet flowers cover bush through the summer months. Prefers warm sunny sites, with nwell drained light soil. Avoid heavy frost, and too much water. Good for warm sunny banks and garden edges.

Convolvulus
Species cneorum
Cultivar
Silverbush
Convolvulaceae
Mediterranean
DETAILS
60 cm
100 cm
(expected growth in average NZ conditions in 5 to 10 years)
Evergreen
Grows in most soil types / Grows in sandy soils / Needs well drained soil
Prefers dry soil
Frost hardy / Grows in sun or semi-shade / Tolerates coastal sites / Tolerates exposed sites.
Texture / Whimsical
Perennials
Small, height up to 0.6 metres.