Coleonema album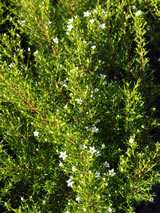 CATALOGUE DESCRIPTION
Compact evergreen shrub with highly aromatic fine bright green leaves and a rounded habit. A mass of small white flowers cover the bush late winter through the spring. Trim after flowering to maintain it's shape. Best planted in full sun in free draining soil. Hardy and reliable.

Coleonema
Species album
Cultivar
Breath of Heaven
Rutaceae
South Africa
DETAILS
1 m
1 m
(expected growth in average NZ conditions in 5 to 10 years)
Evergreen
Shrubs
Small, height between 1 and 1.5 metres.