Choisya ternata 'Sundance'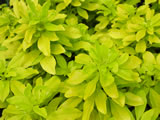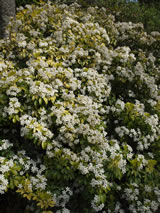 CATALOGUE DESCRIPTION
Popular easily grown shrub with a rounded wide spreading shape. It is densely covered with bright gold to lime green aromatic leaves.Through spring and summer terminal clusters of showy white flowers look great against the gold-green foliage. On a good site it will slowly sucker to form a dense wide shrub. It can be trimmed to shape if necessary. Very hardy. Prefers a semi-shaded site.

Choisya
Species ternata
Cultivar 'Sundance'
Mexican Orange blossom
Rutaceae
Mexico
DETAILS
1 m
1 m
(expected growth in average NZ conditions in 5 to 10 years)
Evergreen
Grows in most soil types
Tolerates dry soils
Frost hardy / Prefers a semi-shaded site
Immaculate / Magnificent / Nourishment / Sanctuary / Texture / Whimsical
Shrubs
Medium, height between 1.5 to 3 metres
All our current stock has been dispatched out to retailers. If they have none left for you, we are growing another crop to supply as soon as possible.
Where to buy our plants