Ceanothus thyrsiflorus var griseus 'Diamond Heights'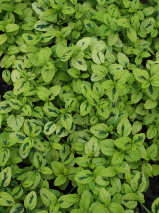 CATALOGUE DESCRIPTION
Low growing vigorous shrub with glossy dark green leaves with a marbled yellow variegation. Abundant bright blue flowers on stem tips in spring. Easily grown in semi-shaded dry sites. Hardy.

Ceanothus
Species thyrsiflorus var griseus
Cultivar 'Diamond Heights'
Californian lilac
Rhamnaceae
North American
DETAILS
40 cm
1 m
(expected growth in average NZ conditions in 5 to 10 years)
Evergreen
Grows in most soil types / Needs well drained soil
Tolerates dry soils
Frost hardy / Prefers a semi-shaded site / Tolerates coastal sites
Enthusiast / Nourishment / Texture
Shrubs
Prostrate or creeping.
All our current stock has been dispatched out to retailers. If they have none left for you, we are growing another crop to supply as soon as possible.
Where to buy our plants