Stachys byzantina 'Limelight'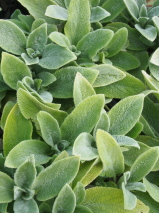 CATALOGUE DESCRIPTION
Ground cover perennial with soft, velvety, golden-green leaves which form a mat. Leaves are evergreen in warm climates. Erect, small-leaved flowering stems with terminal spikes of tiny, purplish-pink flowers appear in summer rising above the foliage. Can remove the flowering stems to enhance the ground cover effect. Sun or shade, great for dry sites.

Stachys
Species byzantina
Cultivar 'Limelight'
Golden Lambs Ear
Lamiaceae
Turkey
DETAILS
10 cm
50 cm
(expected growth in average NZ conditions in 5 to 10 years)
Evergreen
Avoid clay soils. / Prefers good loamy soil
Soil must be well drained / Tolerates dry soils
Prefers a semi-shaded site / Tolerates coastal sites / Will tolerate moderate frosts
Immaculate / Nourishment / Sanctuary / Texture / Whimsical
Perennials
Small, height up to 0.6 metres.