Aloysia triphylla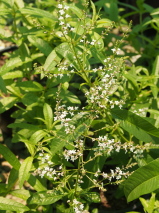 CATALOGUE DESCRIPTION
Aromatic shrub with lemon sented leaves. Spikes of small avender-purple flowers in summer and autumn. Protect from frost, prefers a warm sunny site. Leaves may be dried for culinary use and in pot-pourri and sachets. Trim to maintain a bushy shape. Best in well drained soils with some mulch.

Aloysia
Species triphylla
Cultivar
Lemon verbena
Verbenaceae
South America
DETAILS
2 m
2 m
(expected growth in average NZ conditions in 5 to 10 years)
Deciduous
Grows in most soil types / Needs well drained soil
Water well in summer / keep dry in winter
Must be sheltered from wind. / Prefers a sunny site / Will tolerate light frost only
Enthusiast / Nourishment / Sanctuary / Whimsical
Shrubs
Medium, height between 1.5 to 3 metres
All our current stock has been dispatched out to retailers. If they have none left for you, we are growing another crop to supply as soon as possible.
Where to buy our plants