Camellia hybrid 'Black Lace'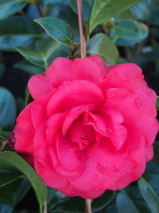 CATALOGUE DESCRIPTION
Compact shrub with an erect growing habit. Large lustrous leathery dark green leaves. In mid to late spring beautiful glowing dark velvet red, very showy flowers appear along the branches. Flowers are a medium formal double to rose form with incurved petals. Very hardy though thrives in good loamy soil that does not get too dry. Prefers a semi-shaded sheltered site.

Camellia
Species hybrid
Cultivar 'Black Lace'
Camellia
Theaceae
DETAILS
2.5 m
2 m
(expected growth in average NZ conditions in 5 to 10 years)
Evergreen
Shrubs
Large, over 3 metres.