Trohodendron araloides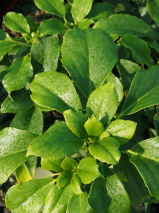 CATALOGUE DESCRIPTION
A handsome tree in the wild, sometimes starting as an epiphyte. In a cool temerate climate it remains as a shrub. Grown for its exceptionally neat, spiral arrangement of attractive foliage. The whorl of leaves holding the terminal cluster of green flowers at their centre. Prefers a sheltered site, sun or part shade. Good fertile moisture retentive soil. Hardy to cold.

Trohodendron
Species araloides
Cultivar
Trochodendron
Trochodendraceae
Japan
DETAILS
3 m
2 m
(expected growth in average NZ conditions in 5 to 10 years)
Evergreen
Prefers good loamy soil
Prefers even soil moisture
Grows in sun or semi-shade / Must be sheltered from wind. / Will tolerate moderate frosts
Enthusiast / Sanctuary / Texture
Shrubs
Large, over 3 metres.
All our current stock has been dispatched out to retailers. If they have none left for you, we are growing another crop to supply as soon as possible.
Where to buy our plants